There are several factors to consider with the hole size needed for a bulkhead. The information below is considered "general" guidelines for the most popular types of bulkheads. (For example they may not apply to schedule 80 bulkheads).
Bulkhead Size
Recommended Hole Sizes
3/4 inch
1 1/2 inches
35 to 40 mm
3/4 inch thick wall
1 3/4 inches
45 mm
1 inch
1 3/4 inches
45 mm
1 1/2 inch
2 1/2 inches
60 to 65 mm
Be sure to check with your supplier before ordering, and be sure to have bulkheads in hand before having a tank custom drilled!! 
| | | |
| --- | --- | --- |
| | | |
| 3/4 inch bulkhead | 1.0 inch bulkhead | 1 1/2 inch bulkhead |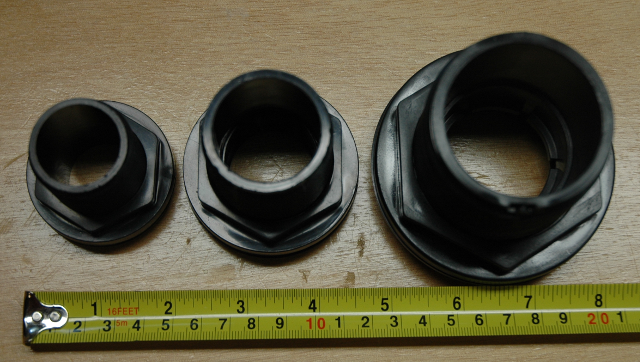 The 3/4 inch (left), 1 inch (middle) and 1.5 inch (right) bulkheads